CG5 FORTRESS 4K
CG5 FORTRESS 4K (multilayer character generator) is a powerful tool for the character generation needed in any TV network, production companies or live broadcasting.
Click Here
VIDEO 5 HD PLAY OUT
VIDEO 5 MF is a Play Out Server for automated or live broadcasting for TV networks, which incorporates several of the latest technologies, allowing total control of different types of multiformat content.
Click Here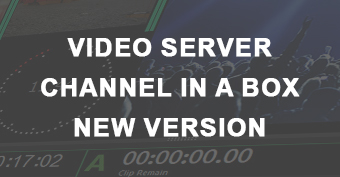 CHANNEL IN A BOX Video Server, Playout with multilayer character generator and multiple video input. Is the ideal equipment for TV channels automation or live
Read More »
CG5 FORTRESS 3D
CG5 FORTRESS is a powerful 3D caracter generator in TV channels, mobile units or production companies.