Broadcast 4K Character Generator. Multiple simultaneous multi-object layers; Multi-layer editor; Create, import and edit BMP, TGA, TIF, JPG, PSD graphics and more; Import TGA and PNG series and AVI files with Alpha Channel; Pre-installed templates, True Type Fonts support, Manual or automatic Play; Alpha Channel video files overlay on Live feed (Branding); Time, Temperature and Humidity insertion; Multiple clips, lower-thirds, rolls and crawls with independent control; Timer; Graphic Play out; Transitions setting; Multiple animated logos; Excel and TXT files integration; Communication protocols and more.
M-MAM Protocol supported.
MOS Protocol supported (optional).
Social Networks Integration (optional).
4 HD input DVE, when in HD mode (optional).
Sport events Graphic module.
Remote Control Module for iOS or Android tablets.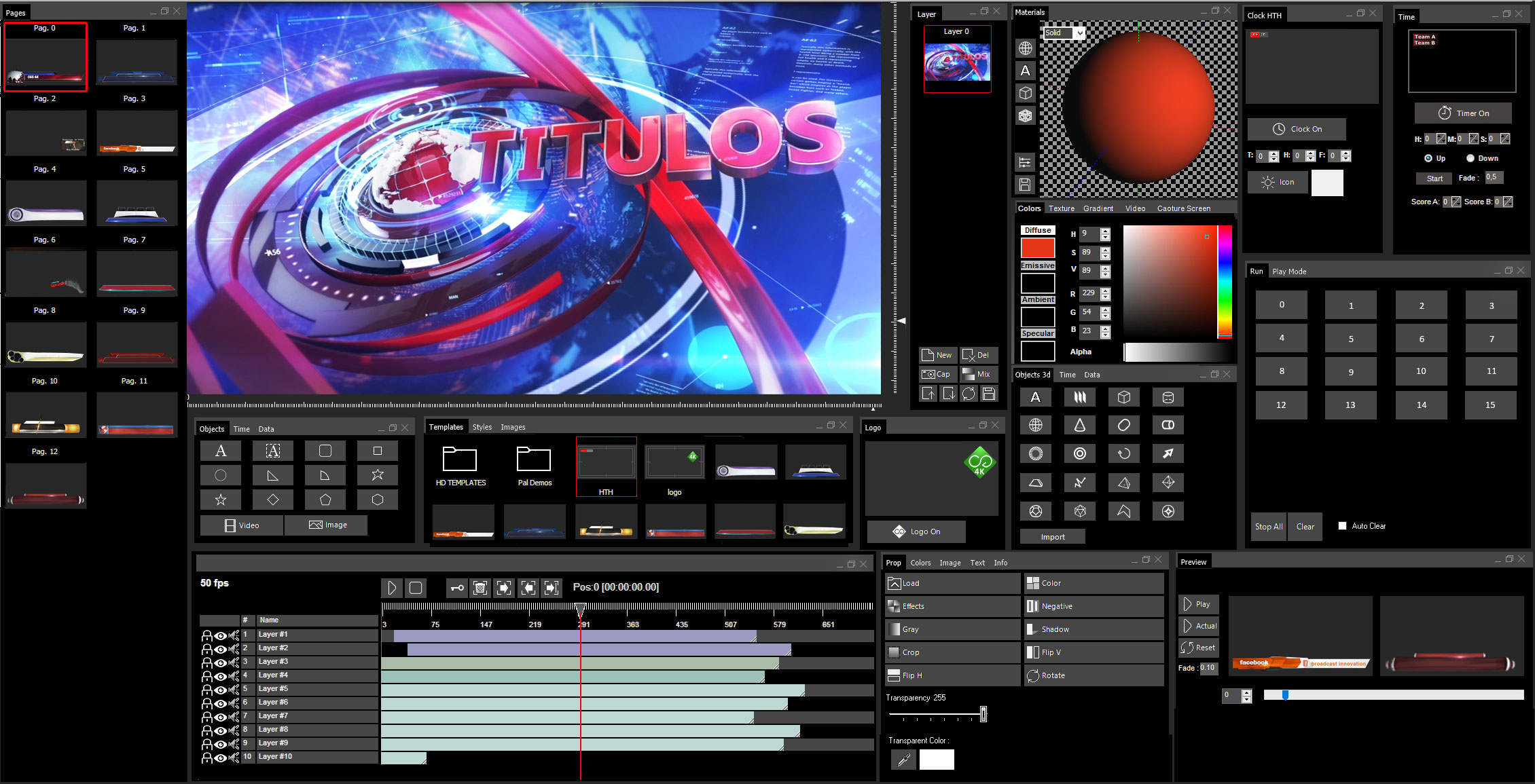 The flexibility of CG5 FORTRESS 4K allows multiple tasking.
Multiple layers with independent speed and fade control.
2D and 3D enviroment within the same project.
Multi-object layers with independent control.
Alpha Channel mixing.
Titles and subtitles in real time.
2D and 3D generation within the same platform.
REST SERVER function.
Graphic generation associated to external data.
Down Stream Key or Up Stream Key.
Insertion of multiple animated logos in 3D.
Insertion of time, temperature and humidity.
Sports Timers.
3DS MAX® file importation.
Multiple simultaneous Videos, Branding, Lower  Third, Rolls  and Crawls.
Transition definition.
Graphic management for sports events.
Social Network integration (Facebook, Twitter, RSS, XML, etc.).
Screen Capture from external applications.
Project content in one file.
More than 200 predefined templates for its immediate use.
It supports PSD, TGA, TIF, GIF , PNG , BMP , EMF , JPG , PCX, TGA and PNG series, etc.
EXCEL, TXT and multiple communication protocols integration.
Remote control for iPad®, MAC® and WINDOWS®.
SPORT Plug In
Time line.
. . .
Configurable as:
1 Input 4K + 1 Output 4K + Genlock or
2 Output 4K (Key+Fill) + Genlock or
4 Input HD SDI + 2 Output HD SDI + Genlock or
4 Input HD SDI + 4 Output HD SDI (2 Key+ 2 Fill) + Genlock

INPUT and OUTPUT
1 x HD-BNC input for connecting an external analog sync source (Black Burst, Tri-level sync)
8 x HD-BNC
Internal video data processing:    4:2:2  8,10 bit
Supported video:
480i 59.94
576i 50
720p 23.98/24/25/29.97/30/50/59.94/60
1080i 50/59.94/60
1080p: 23.98/24/25/29.97/30/50/59.94/60
2160p: 23.98/24/25/29.97/30/50/59.94/60
Modes:
Up to 8 channels in SD / HD-SDI.
Up to 4 channels in 3G-SDI mode
1 channel in Ultra HD-SDI mode 2160p: 50/59.94/60 (Quad-link)
2 channels in Ultra HD-SDI mode 2160p: 23.98/24/25/29.97/30 (Dual-link)
Audio:
24 bit SDI Embedded, 8 stereo audio channels for 1 video input/output
SD-SDI: SMPTE 272M-A
3G/HD-SDI: SMPTE 299M
Synchronization audio to video, configurable audio delay (independently for each input mono channel).
Synchronization:
External analog sync source (Black Burst, Tri-level sync)
SDI Input