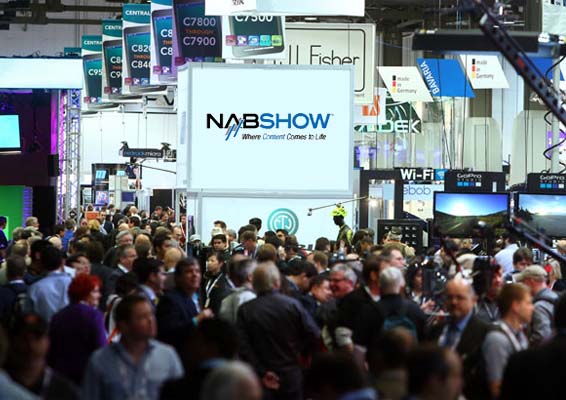 With a great number of visitors, MEDIA 5 SRL was present in NAB 2013. Such event took place in Las Vegas Convention Center, Las Vegas, Nevada USA, from 8-Apr to 11-Apr of 2013.
This year, the company presented the Workflow Tapeless, which had a fabulous acceptance of the visitors.
MEDIA 5 S.R.L. presented the newest versions of their products at NAB 2013, which include video servers, character generators, multichannel recording equipment, slow motion play equipment, Server Channel in a Box and MAM 5 System (Media Asset Management).
MAM 5 is a set of tools designed to adapt to the requirements of managing content from different workflows developed to be implemented in channels which need to keep content organized with a lot of information, different types of content and interaction with multiple equipment and protocols.
MAM 5 it´s made up for of web services and software modules that work together. These services and modules can work on their own or interconnected among themselves depending on the implementation.
MAM 5 is completely modular. This allows a great scalability and redundancy according to each client's requirements.
Main features:
Access to content from any work station provided by WEB environment.
Improvement in efficiency and productivity of resources in all workflows.
Reuse and value content in a quick and efficient way.
Cataloguing and search.
Central management of content.
Transparent management of Online, Nearline and Offline storages.
Tapeles environtment in the whole process.
Multiple Automatic Publication (Broadcast, WEB, Facebook, Twitter, RSS, etc)
Efficient Control of content and publications.
Management of Social Networking
Cataloguing and Archiving of video content, audio, graphs and news.
VIDEO SERVERS: This line of products provides solution and workflows that can be adapted to different existing structures on the Broadcast Market, Simultaneous Recording and Reproduction, multiformat play out, SQL databases, statistic information system, access control, HTML control, remote or local control, Work in RED, Proxi server management, insertion of animated Logo with Alpha Channel ,Hour, Temperature and Humidity, Switchable multiple inputs, etc. It works with DV, MPEG2, MPG2 I-FRAME, DVCPRO, DVCPRO-50, UNCOMPRESSED, MJPEG, DVCAM, MPEG 2( ISO/IEC 13818-2) (VBR,CBR) up to 80 Mbps, MPEG 2 HD DVD, MPEG 2 HDV HD, XDCAM 1080-540, H.264/AVC, MPEG-4, DVCPRO HD, AVC-Intra, etc.
AVI, MXF, LXF, GXF, MOV, QT and WMV compatible.
CHARACTER GENERATORS: system of character generator multilayer which allows to print over up to 64 simultaneous layers with Alpha Channel mix, multiple Logos, escalated  videos on screen, videos in full screen, Crawl, Roll, Chronometers,  Hour, Temperature and Humidity, Excel Integration, Switchable multiple inputs up to 3 Picture in Picture Live, etc.
MULTICHANNEL RECORDING SYSTEMS:  different configurations allow to cover all the needs of Broadcast recording in a channel or TV studio: real time compression, recording according to time segments, channel independent compression eligible by users, recordings with water marks, recording with date and time, Simultaneous Recording and Reproduction.
RECORDING SYSTEMS WITH SLOW MOTION PLAY: developed for location mobile applications. Different configurations allow the user to find the solution needed at the lowest price possible on the market, simultaneous recording and reproduction, editing functions, play list, 422 control, witness record of camera for its editing, picture by picture search , time code, etc.
SERVER CHANNEL IN A BOX: multiformat video server which records and simultaneity reproductions with real time compression, three graphic layers with Alpha Channel Mix, certifications and broadcast control, etc.