SMART PLAY  is a CHANNEL IN A BOX Video Server which integrates PLAY OUT, recording and multilayer character generation (Alpha Channel mix). Due to its modern structure SMART PLAY  is the ideal equipment for automation or live work since it incorporates a set of next generation technologies, achieving total control of different types of multiformat content.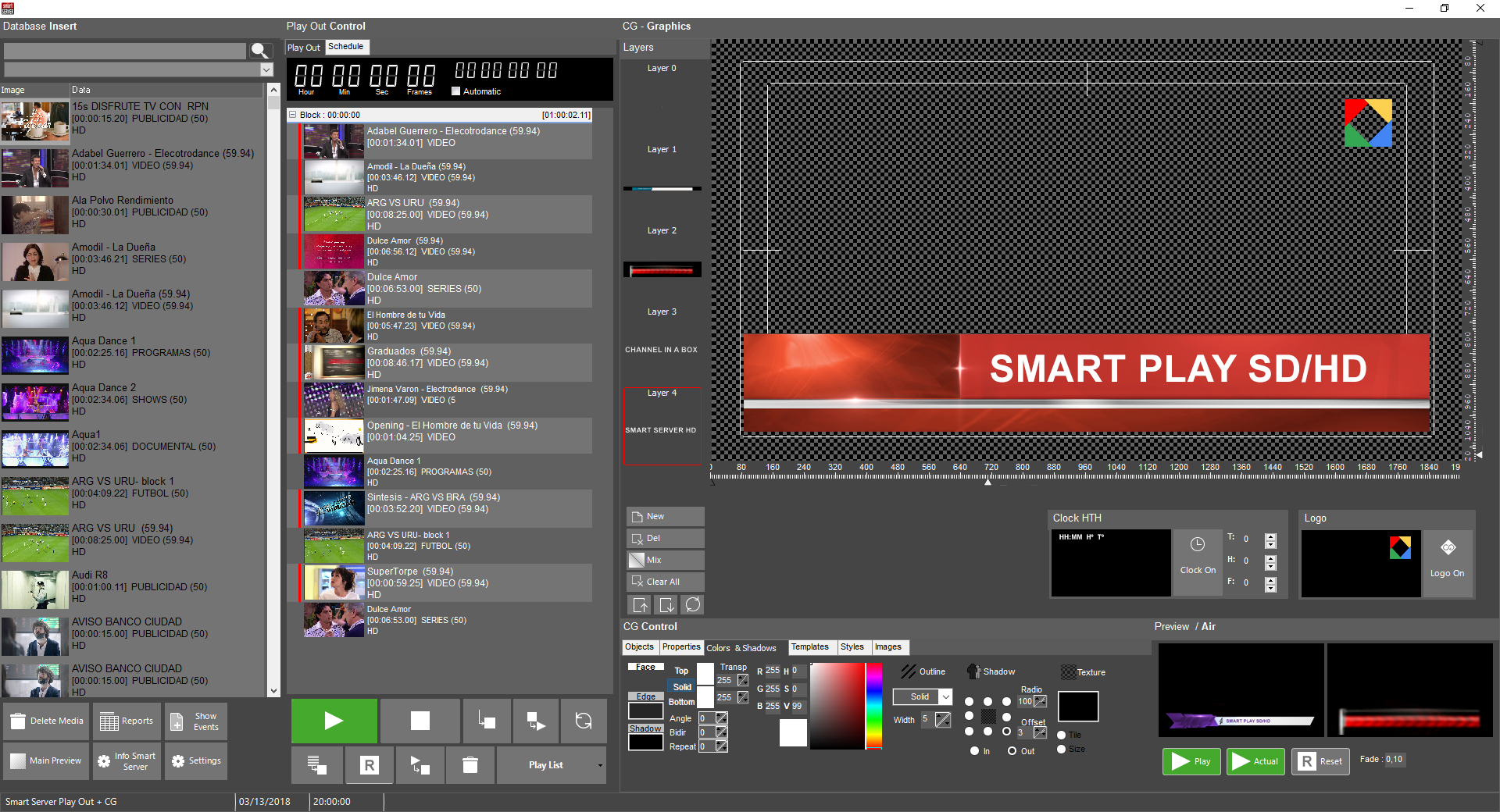 The flexibility of SMART PLAY allows multiple operations:
Simultaneous Recording and Playout.

Real time compression.

Multiformat Play Out.

Supports AVI, MOV, MPG, MXF, etc.

Multiple selectable compression formats: 1080P, 1080i, 720p, Frames 23.98 / 24 / 48 / 50 / 59.94 / 60, MPEG 2 (ISO/IEC 13818-2) (VBR, CBR) hasta 80 Mbps, WMV HD, DVCPRO HD.

Broadcast and Commercial  Reports.

Frame by frame search.

Multiple clips over the same video.

3 graphic layers with Alpha Channel Mixing.

Logo insertion.

Time, temperature and humidity insertion.

Branding, roll, crawl video, TGA series or Lower Third.

Screen preview.

Video Trim.

etc.
Technical Specifications
INPUT 
1 IN SD/HD SDI (RECORDER or LIVE)

1 Genlock
OUTPUT
12 bit 2K/HD/SD SDI I/O
12 bit internal processing
Genlock Input
Dual Link 4:4:4, 4:4:4:4, 4:2:2:4 I/O
Single Link 4:2:2 I/O
16 Channels of embedded audio