PLAY OUT VIDEO 5 NDI is a Video Server for automated or live broadcasting, needed in any TriCaster based operation.
PLAY OUT VIDEO 5 NDI incorporates several of the latest technologies; allowing total control of different types of multiformat content.
PLAY OUT VIDEO 5 NDI flexibility allows to perform multiple operations:
AVI, MOV, QT, WMV, MPG, MXF and GXF compatible.
Video assigning to function key  for maximun reproduction speed.
Metadata difining to each video file on header or with data base integration.
Broadcasted reports and advertising certifications.
Frame by frame search.
SQL data base.
HTML control with reports visualization, schedules, broadcasting control, etc.
Communication protocols.
Preview on screen.
Network remote control.
Video trim.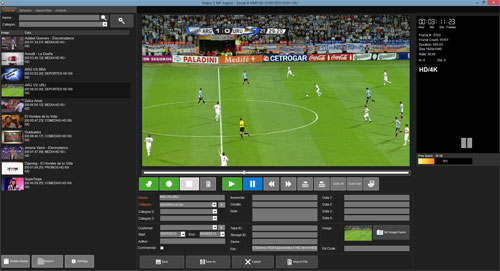 Tech Specs
OUTPUT: NDI
16 audio embedded channels.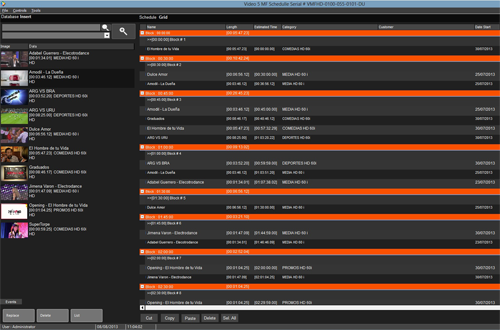 Supported Video Modes
720x486i @ 59.94 Hz NTSC
720x576i @ 50.00 Hz PAL
1280x720p @ 23.976Hz, 24Hz, 25Hz,
29.97Hz, 30Hz,50Hz, 59.94Hz, 60Hz
1920x1080i @ 47.96Hz, 48Hz, 50Hz,
59.94Hz, 60Hz
1920x1080PsF @ 23.976Hz, 24Hz, 25Hz,
29.97Hz, 30Hz
1920x1080p @ 23.976Hz, 24Hz, 25Hz,
29.97Hz, 30Hz, 47.96Hz,48Hz, 50Hz,
59.94Hz, 60Hz
2048X1080p @ 23.976Hz, 24Hz, 25Hz,
29.97Hz, 30Hz, 47.96Hz,48Hz, 50Hz,
59.94Hz, 60Hz
2048X1080i @ 47.96Hz, 48Hz, 50Hz,
59.94Hz, 60Hz